The Cue Ball Mystery series project is complete – Book 4 is finished!
This has definitely been my most favorite audiobook project to date. When the author, Cindy Blackburn, contacted me about narrating book one, I didn't have a lot of fiction titles under my belt, so she took a chance on me, which I appreciated! She was GREAT to work with and her suggestions and input made the narration better.
There ended up being over 70 different voices in all four books, so it was definitely a challenge. I started an audio file with all the different voices and added to it as a new character appeared and I decided on a voice for that particular character. The characters would sometimes reappear in later books, so it was a good reference.
I really liked the character of Jessie Hewitt – the pool-playing, champagne drinking writer/amateur sleuth and she was, by far, my favorite character (and easiest) to voice.
Cindy is also an avid twitter user-  @cbmysteries – and it was a fun learning experience to coordinate with her using twitter to promote the books as they rolled out.
I managed to include some "research" in my tweets – pictures of my glass of prosecco and pool playing at a bar in Columbia, MO. Anything to get in character!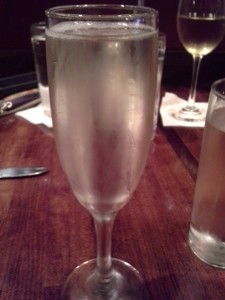 Books 1-3 are available for purchase (links below). The production on Book 4, "Four Play", is finished and it should be "live" soon – I'll update here when it is.
I have some free download codes for Books 2-3; let me know in the comments if you'd like one.
Book One is Playing With Poison where we me Jessie and her friends. We also meet Detective Wilson Rye; he and Jessie don't get off to a great start.
 Pool shark Jessie Hewitt usually knows where the balls will fall and how the game will end. But when a body lands on her couch, and the cute cop in her kitchen accuses her of murder, even Jessie isn't sure what will happen next. She also isn't sure how to catch a killer, but she's about to learn.

I only have the occasionally lucky shot, but I enjoy playing
Book Two is Double Shot:
Jessie Hewitt thought her pool-hustling days were long gone. But when uber-hunky cop Wilson Rye asks her to go undercover to catch a killer, she jumps at the chance to return to a sleazy poolroom. Jessie is confident she can handle a double homicide, but the doubly-annoying Wilson Rye is another matter altogether. What's he doing flirting with a woman half his age? Will Jessie have what it takes to deal with Tiffany La-Dee-Doo-Da Sass and solve the murders? Take a guess.
The third book, Three Odd Balls, has a dramatic – and fun – change of scenery:
Murder meets menopause. Take a guess which wins. A romantic vacation for…five? This wasn't exactly what Jessie and Wilson had in mind when they planned their trip to the tropics. The fun begins when Jessie's delightfully spry mother, Wilson's surfer dude son, and Jessie's rabidly hyperactive New York agent decide to tag along. What kind of trouble can these three oddest of odd balls possibly get into? Take a guess.